---
The effective way of portrait and data protection
Not covering personalization
Resilient foil product, robust security hologram
Enables standard application process
---
Fully metallized KINEGRAM
The brilliant authentication device
Well known reliable authentication device
Bright shining KINEGRAM structures
Large range of security features
---
Partially metallized KINEGRAM
Metallized solutions for advanced security
Increased security through special shapes
Large improvement against cut-and-paste forgeries
Induces creativity in design integration
---
The invincible combination of security and design
The ideal combination of portrait protection and document authentication
New option to link laser personalized data with metallization
The classical way for upgrades; from transparent KINEGRAM to KINEGRAM Combi
---
KINEGRAM HDM - High Definition Metallization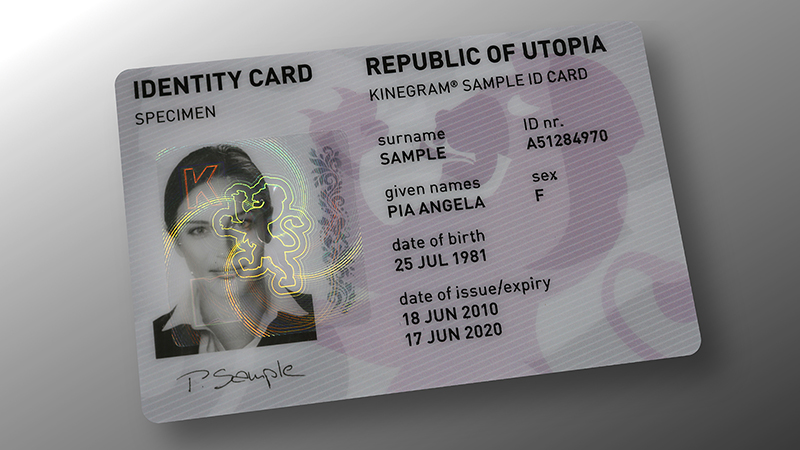 KINEGRAM HDM is a new metallization technology with unsurpassed resolution of the metallic areas. Using line widths down to 10-15 microns, sophisticated design patterns, fine-line elements, symbols or text/letters can be realised. This new high resolution process can be used in Combi format as a higher-security alternative to the current KINEGRAM Combi which is produced using the standard metallization. Going far beyond the possibilities of standard security holograms, this unique technology opens up new dimensions in security design.
Metallized security design elements only attainable using HDM
Full range of metallized transparency from 5% to 95%
New unique 2nd – level security features (not commercially available).
Suitable for upgrades from conventional metallization to high resolution metallization
---
---
---
KINEGRAM ZERO.ZERO - The latest innovation in foil security for documents
The unique metallization solution for best-in-class security and visual attractiveness
KINEGRAM ZERO.ZERO is the brand name of the unique metallization technology developed and produced by OVD Kinegram AG. With this technology diffractive design elements such as optically variable fine-lines are in perfect register to the metallization. This cannot be achieved by using commercially-available de-metallization processes for security holograms. Thanks to the high resolution metallization technology, KINEGRAM elements can be integrated more easily into the security printing thus enabling the document designer to achieve higher levels in document security. In addition, the diffractive metallized elements of the KINEGRAM ZERO.ZERO appear much brighter than conventional transparent (HRI) products.
High-precision partial metallization through the unique KINEGRAM technology
Maximum briliance combined with a predetermined transparency
The ideal technology for the Integration of a design with security print
The difference between transparent KINEGRAM, partial metallized KINEGRAM and KINEGRAM ZERO.ZERO
The difference between transparent KINEGRAM, partial metallized KINEGRAM and KINEGRAM ZERO.ZERO
---
KINEGRAM ZERO.ZERO Combi - The latest innovation in foil security for documents
The perfect combination of security and usability
Design integration with nearly no limits
Today the highest and most versatile innovation within the KINEGRAM foil technology