Certified Security

Document Security taken to a New Level - Birth Certificates with KINEGRAM
Document Security taken to a New Level - Birth Certificates with KINEGRAM
Most birth, marriage and death certificates continue to be issued in paper form. The standard approach to make them counterfeit- and fraud-resistant is to use special security paper, which is then additionally protected with a strong authentication device.
The best choice to secure documents, including certificates, is the KINEGRAM technology - for example in the form of a KINEGRAM patch which is applied onto the document. Certificate verification is made easy due to the unique optical security effects which are very easy to authenticate but very hard to imitate. The certificate issuance essentially remains unchanged, whereas the security level of the document is greatly increased.
What are the advantages of KINEGRAM technology to secure certificates?
increased security level of the document
error-proof and suitable for track and trace due to individual numbering option: each certificate can only be issued once when linked to a database
easy to introduce in an existing issuing process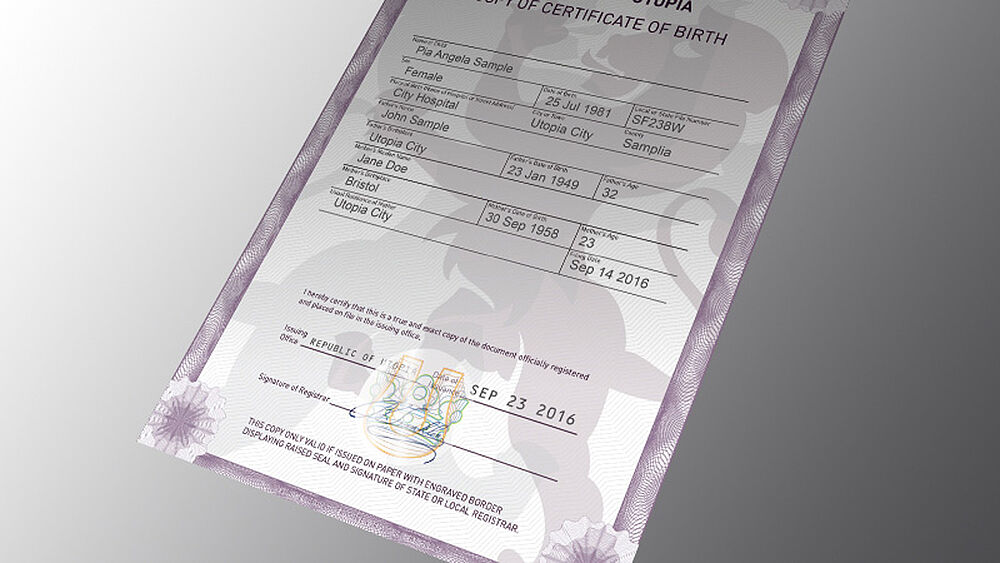 Certificate protected with a KINEGRAM
We are happy to provide more information about our solutions for birth certificates. Tell us what you would like to know!
KINEGRAM Notary Seal - A Protective Label with Integrated Forensic Security Feature
KINEGRAM Notary Seal - A Protective Label with Integrated Forensic Security Feature
The main purpose of a notarization is to officially certify the authenticity and trustworthiness of documents asserting various legal matters – or in other words, to protect the public from document fraud. However, notaries themselves are a regular target of criminals.
Ribbons and standard seals are prone to fraudulent attacks, where false documents are intended to pass for real ones or notarized documents are being tampered with. OVD KINEGRAM's Notary Seal solution puts a stop to this threat. A tamper evident label that includes both visible and hidden security features protects the notarized document and the notarization itself against fraud and counterfeiting. The recipient of such a notary certificate can easily verify the authenticity of the document and the notary's certification.
simple application
tamper-evident and fraud-resistant label material
best-in-class KINEGRAM security features, including high security microtext and nanotext
easy visual authentication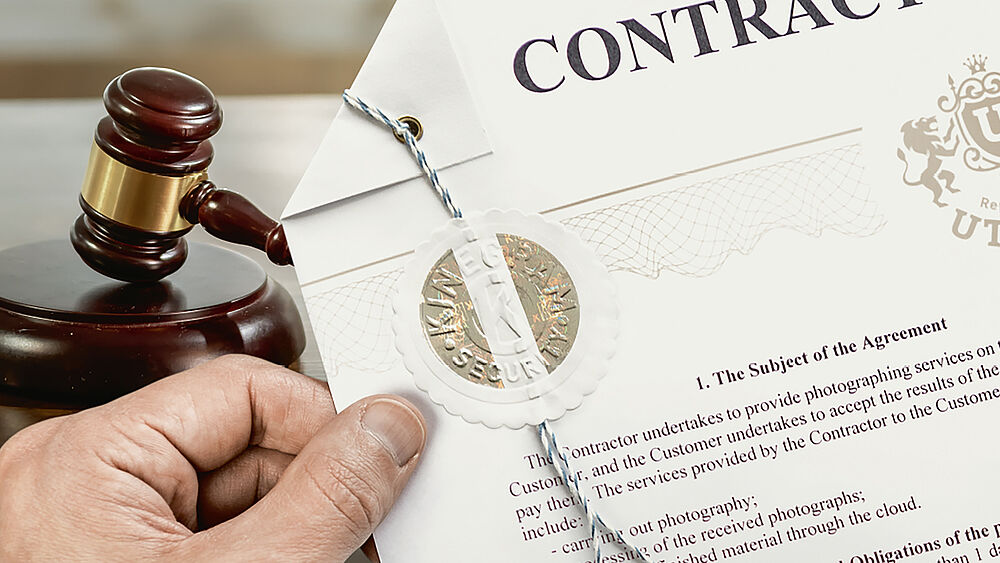 The KINEGRAM Notary Seal protects notary documents from fraud and manipulation.
Would you like to receive more details on our Notary Certificate solutions?