ID cards in portrait format allow a maximum size photograph for more accurate and more reliable authentication. Maximum security is added by a KINEGRAM PCI with Full Data Protection (FDP).
ICAO currently develops a layout for ID document portraits which recommends larger and higher quality facial images to counteract misuse committed by exchanging and falsifying ID cards. The new standard is based on a simple formula: large portrait size + high resolution = stronger protection and easier authenticity checks.
With an embedded full-surface KINEGRAM PCI, this new layout makes polycarbonate IDs the safest they have ever been.


Benefits
The KINEGRAM tells a story - easy to remember and easy to communicate
Fast and reliable identification of the card holder and his personal data – hard to counterfeit

The new sample KINEGRAM "KOI" beautifully illustrates these capacities. A very large portrait catches the viewer's attention, with the card holder's personal data positioned along the sides of the card or below the portrait according to the new ICAO proposal. Both the portrait and the personalization are optimally protected with highly sophisticated KINEGRAM security effects. Enjoy the video.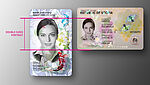 Sample ID card in portrait format with large photograph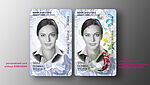 The large portrait interacts with the optimally integrated KINEGRAM security effects.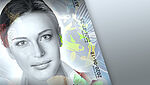 Well protected personalization with the KINEGRAM.
dfgdfgdf
dfgdfgdf
dfgdfgdf
dfgdfgdfg
dfgdf
We are happy to assist you with your new ID card project.
Click on the contact button and tell us what you would like to know!