KINEGRAM Academy

The KINEGRAM Academy is an indispensable tool for expert know-how on document examination - particularly on authenticating a KINEGRAM. Secure identity solutions around the world rely on the unique KINEGRAM technology.
KINEGRAM effects for secure identity solutions are uniquely suited to fight counterfeiting and forgery and help to determine the authenticity of documents with absolute certainty.
Click the button below and learn how to verify the state-of-the-art effects of a KINEGRAM.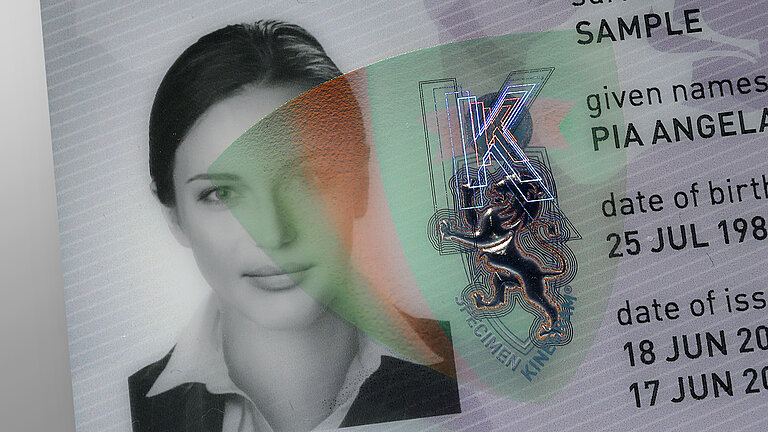 Learn how to verify the state-of-the-art KINEGRAM effects
You have specific questions or training needs? Get in touch with us!
Whether you have specific questions on any of the KINEGRAM solutions or would like a training on a specific topic, do not hesitate to contact us with all your questions. Click on the Contact button below and let us know how we can help!
Brochure and Video Explanations
Brochure and Video Explanations
OVD Kinegram offers various training material for governments including sample documents and video explanations. We are pleased to provide on-site training upon request.
Our KINEGRAM Academy brochure explains typical distinct level 1 and level 2 security features of the KINEGRAM technology. Sample cards help you to explore the key optical effects. The brochure also contains a schematic description of the security features as well as a QR code to enable the viewing of a video animation of these features.
Request Your KINEGRAM Academy Brochure!
The brochure is intended for use by instructors leading document examination courses, allowing them to explain the key level 1 and level 2 security features of a KINEGRAM. Materials and support are available for both in person and remote training.
If you would like to receive a set of brochures or require more information on this tool, please let us know. Should you need any special samples for specific purposes or highlighting specific technologies, we are pleased to help.